Rosedale multi basket bag filter housings offer a wide range of flow capacities and contaminant-holding capabilities. They contain from 2 to 23 baskets.The standard pressure rating for all models is 150 psi. All multi bag filter housings can be supplied with an ASME code stamp, if required.
Standard Housing Design

 (STD) is durable and economic. It includes a davit arm and handwheel to facilitate cover removal. It is our most versatile housing design offering a variety of options, including our low profile design.
Features
Multiple housing styles available (standard, quick access, low profile, hinged lid)

2 -23 filter bags or strainer basket per housing

Permanently piped housings are opened without tools and without disturbing the piping

Machined cover gasket groove provides positive O-ring sealing

Carbon steel, 304 or 316 stainless steel construction housings

Large-area, 30 inch deep, heavy-duty, 9/64 inch perforated baskets

Easy to clean

Low pressure drop

Four cover seal materials: Buna N, Ethylene Propylene, Fluoroelastomer¨, and PTFE¨

Pressure rating 150 psi

Flanged connections for 2 through 12 inch pipe

Vent, drain and gage connections
To serve as a strainer, a unit is ordered with perforated stainless steel or mesh lined baskets. When ordered as a filter, it's fitted with perforated stainless steel baskets designed to hold disposable or cleanable filter bags. Industry-standard size bags are used: the standard 30 inch baskets accept a trade size #2  bag, the optional 15 inch baskets take size #1.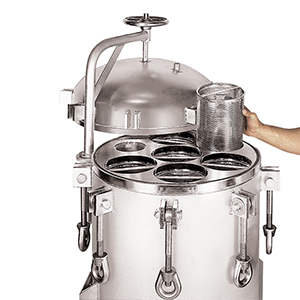 Quick Access Cover

 (Q) features a clamp and spring assisted hinged cover that is quick and easy to open and close with no tools required. This will significantly reduce change-out time and lower operating costs. The Q is rated to 150 PSI and constructed to meet ASME code requirements. Built-in safety features ensure that the cover cannot be opened unless the internal pressure is first released. The Q is offered with our low profile design making bags more accessible and easy to remove.

Low Profile Design

 (SLP) Housings are compact and space saving, allowing for ease of bag change-out. Standard operating height is reduced, resulting in a safe design by eliminating platforms and ladders. The SLP is manufactured in any housing version, including our standard davit arm cover, QAC design, and spring assisted hinged cover.
Spring Assisted Hinged Cover

 (HLP) opens and closes without effort. Simply loosen the swing bolts and lift the cover up to open. An automatic cover stop is provided. This design saves time by eliminating the  handwheel.